Super-upscale Hollywood candy company Sweet! (yes, the exclamation point is part of their name) is offering Hellboy chocolate bars in honor of Big Red's 20th anniversary.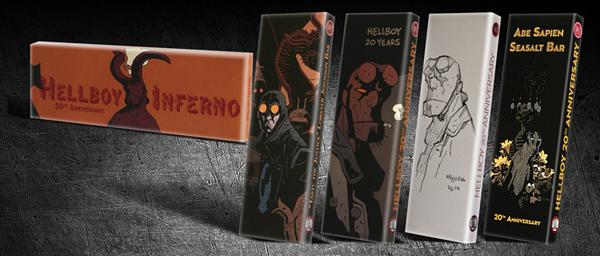 Hellboy Inferno Bar: dark chocolate with chili peppers
Hellboy Bar: white chocolate, toffee nibs and almonds
Hellboy 20 Year Bar: milk chocolate bar with toffee nibs and almonds
Lobster Johnson Bar: milk chocolate bar with CornNuts (tastes like justice)
Abe Sapien Bar: milk chocolate bar with seasalt caramel
Now, these aren't a product we're going to be carrying ($8 for a bar of chocolate? Are you
nuts
?!), but you can order them
online
if you have money to burn. The wrappers were designed by Mike Mignola himself, and there's even a blank spot on the back if you want to get them signed.
Hellboy chocolate. That's probably the craziest thing I'll hear all day!