Last year, Zenescope Entertainment successfully used Kickstarter to fund the pilot for a
Grimm Fairy Tales
animated series.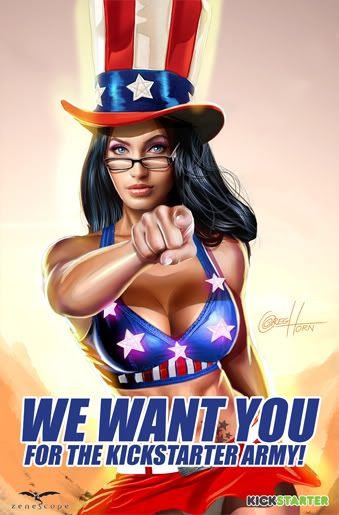 And after months of work, the first three minutes have been released as a teaser:
The
GFT
comics are best described as "boobs-tacular," and it looks like the cartoon is going to follow suit. The animation is being done by Titmouse Inc, the same studio that does
Metalocalypse
for Cartoon Network's
[adult swim]
. If you're interested in reading about these characters before the animated series starts, we have plenty of the books, both as individual issues and collected in trades. There are several different
GFT
series that run concurrently, and we can get all of them for you if you like.
And while we're on the subject, if you like the
Metalocalypse
cartoon, you should check out the
Dethklok
comics. They're written by the show's creators, and have been collected in a
brütal
hardcover by Dark Horse Comics. Come in and ask for item number MAR110042 and we'll be happy to order you a copy. The book even includes the hard-to-find
Dethklok vs. The Goon
one-shot, which will introduce you to another character you'll probably like.
(P.S.: remember to go "like" our Facebook page so we can give you a bigger sale on comics!)