Look out! It's the rampaging Rhino!
This leather-skinned Spider-Man foe stands nearly 9.5 inches tall with 16 points of articulation, and is ready to tear through your Marvel Select collection like tissue paper.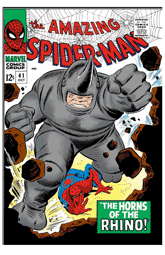 First appearing in 1966's
Amazing Spider-Man
#41, the Rhino is one of the web-head's most fearsome foes. He was recently a member of Doc Ock's Sinister Six, and though he seemed to die during the "Ends of the Earth" story last year, he did live up to that most treasured of superhero tropes:
no one could find a body
. Besides, you know he'll be back at some point -
he's one of the villains in next year's Spider-Man sequel
, and there's no way the comics won't try to cash in on that.
Want to see more pictures of Marvel Select Rhino in action and a full review of what you'll get when you buy him?
Here you go
. And if you're looking for a really good Rhino story to read while you appreciate the figure, come in and take a look in our back-issue bins for
Amazing Spider-Man
#617 and #625; they're both terrific standalone issues, and will have you looking at the Rhino in a whole new light.