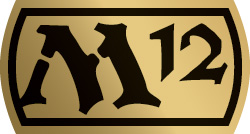 Don't forget about Magic 2012 Game Day.
Saturday, August 13 at 10:30 AM.
DCI Sanctioned, FOIL PROMOS
Entry Fee is $5 which goes toward prize bosters
This is a standard constructed tournament which means only cards from the newest sets may be used in your constructed desk (Zendikar, Worldwake, Rise of the Eldrazi, Magic 2011, Magic 2012, Scars of Mirrodin, Mirrodin Besieged and New Phyrexia).
Prizes:
Everyone gets Stormblood Berserker (while supplies last) and the top players receive Dungrove Elder foil.
** SPECIAL **
If we get 16 players or more, a random player will receive a Planeswalker card (valued at about $20).